All The Sports You Love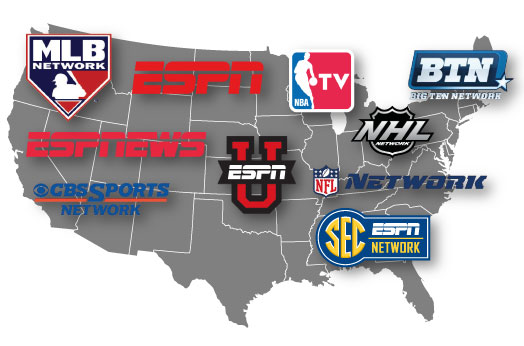 The thrill of victory - the agony of missing your favorite teams. With our great selection of sports packages on DISH, that won't ever happen. Tailgate like a pro with your portable satellite antenna and our sports packages.
PRICING DEPENDS ON PACKAGE CHOICE, SEASONALITY AND LOCATION. PLEASE CALL FOR DETAILS.
Multi-Sport Pack
Get over 35 of your favorite networks — NFL Red Zone, NFL Network, MLB Network, beIN SPORTS and over 20 Regional Sports Networks — at a value that is out of the park! Now includes SEC Network and Longhorn Network with new Multi-Sport Pack subscriptions.
NOTE: Multi-Sport Pack requires subscription to America's Top 120 Plus and above, or DishLATINO Max.
MLB Extra Innings
Experience Major League Baseball in a new way with the MLB Extra Innings package. Follow your favorite teams with up to 100 out-of-market regular season MLB® games each week. Your MLB Extra InningsSM subscription also includes MLB.TV so you can watch every out-of-market game on over 400 supported devices.
OUTDOOR PACKAGE
If you like hunting, fishing, shooting, travel or adventure, this package is for you. We combine the Outdoor Channel, Sportsman Channel, Outside Television and World Fishing Network to entertain outdoor enthusiasts.